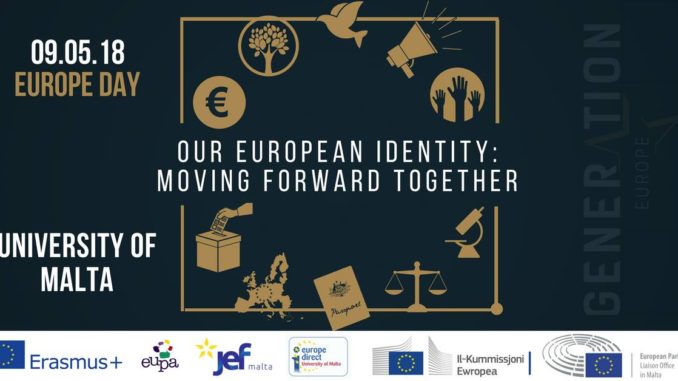 JEF Malta would like to inform you of the debate being held on Wednesday 9th May 2018 between 12.00 and 14.00 at the University of Malta, on Quad, in celebration of Europe Day. During this time, we will be hosting an exciting discussion in collaboration with the Europe Direct Information Centre, European Commission Representation in Malta, and the European Parliament Office in Malta.
This debate will feature several prominent European politicians, dignitaries, and officials. The first hour will take the form of a hot seat question and answer session with several European ambassadors who will be there to share with us what Europe means to them. Following this, a lively panel debate will begin at 13.00. The aim of this debate is to bring policymakers, experts, and youths closer together, in an attempt to look towards ideas that would fit our vision as European youths.
The hot seat session will see guest speakers H.E. Ambassador Béatrice Le Fraper Du Hellen (France), H.E. Ambassador Gudrun Maria Sräga (Germany), O.B.E. British High Commissioner Stuart Gill (United Kingdom), H.E. Ambassador José Maria Pons Irazazábal (Spain), H.E. Ambassador Mario Sammartino (Italy), H.E. Ambassador Joop Nijssen (Netherlands), Dr. Elena Grech (Head of Representation, European Commission Office). Following this, the panellists for the debate will be Hon. Dr. Roberta Metsola MEP (EPP), and Dr. Mark Harwood (Director of the Institute for European Studies). More panellists will be confirmed closer to the date.