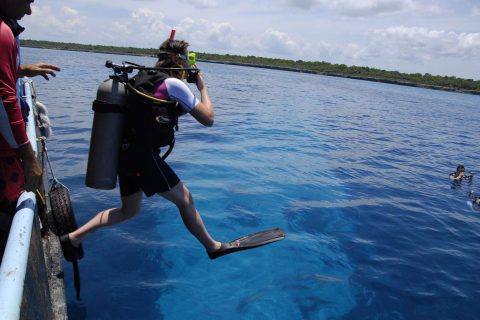 Let's be honest, who hasn't had Scuba Diving on their bucket list? We can narrow that down to just a handful of people. This is your opportunity to experience the wonders that lie underwater!
But hey, if you don't believe us, why don't you read what other students who snatched up this opportunity, had to say about the experience:
Jamie Buttiegieg told us that, "It was only during a class visit hosted by Nathan Adams that I happened to find out about the Opwall Expedition and I was immediately hooked on the idea. I applied for it and I did Open Water Course in South Africa! I couldn't believe my eyes. It's a whole other world down there and we did open water dives in such remote sites that there is absolutely no chance that you could find such sites anywhere else on this earth.
What didn't we see? We saw Sharks and Mantra Rays to name a few. There were so many other fish swimming so close that you could touch them, but it still seemed like dream. I was so happy. So much that I was speechless. There are not enough words to describe how amazing this opportunity was. I wouldn't hesitate to do it again."
Furthermore, Gabrielle Grixti explains that, "I heard about the Opwall Expedition while I was in Sixth Form at St Martin's and I was very interested in the idea. Naturally, I applied, not just once, but twice. I enjoyed my first expedition to Romania so much that I applied once again the following year and went to Croatia where we got the opportunity to Scuba Dive.
We were scuba diving on the beautiful island of Mljet in Croatia and although I was terrified of the idea of breathing out of a tank, it was always something I wanted to do, so my awesome instructor helped me push past that anxiety.
We learnt a lot about safety while diving, as well as the different techniques to use in case of an emergency, so we felt extremely safe by the end of it. We learnt a lot about the marine biology of the Adriatic, and got to see many cool species of fish such as morays, starfish, sea urchins, octopi, corals and sponges.
I would encourage everybody to experience what I did, scuba diving is simply amazing, and nothing beats that feeling as if you're flying over the sea bed, with all types of interesting species swimming around you!"
If you're interested, S-Cubed is willing to help you take your first plunge ever! For the price of €30 you will get the amazing opportunity to experience life better down where it's wetter, under the sea!
No Description
Photo credits: Jorge Angulo